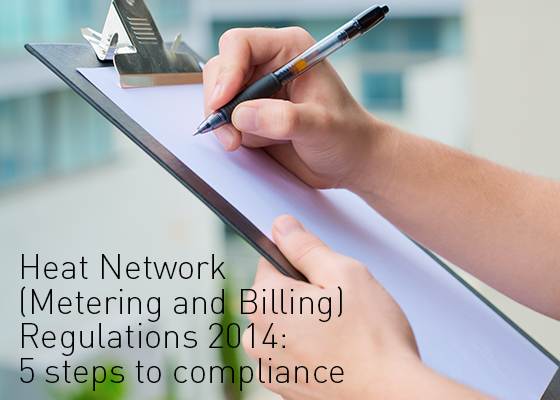 A five-point guide to ensuring compliance with UK energy efficiency legislation
When the European Union announced their 'Europe 2020' scheme at the start of this decade, it made five key pledges. One of its headline targets was a 20% reduction in greenhouse gas emissions and energy consumption, in tandem with a 20% increase in energy efficiency. To comply with this Energy Efficiency Directive, the Westminster Government brought the Heat Network (Metering and Billing) Regulations 2014 into force on the 18th December last year. The accompanying 20-page legislative document covers every communal heating scheme across the UK.
These are the five steps required to ensure compliance, while avoiding a range of civil and criminal sanctions:
Establish who is responsible
At the risk of stating the obvious, it's important to identify who is in overall charge of a communal heating scheme. The Energy Efficiency Directive regulations detail the responsibilities of a 'heat supplier', which could be anyone from a centre manager to a housing association. In tandem with billing partners, the person ultimately responsible for the district heating system will be able to oversee any changes required in terms of metering or account management.
Understand the legislation
The first duty of a heat supplier is to notify the National Measurement Office about the presence of a district heating network, along with estimates of capacity, heat generation capabilities and output. Each building supplied by the network must also be identified, alongside the number of meters or heat cost allocators in those buildings.
Every end customer will require an individual meter to be fitted before the end of 2016. Meters must be situated at a heat exchanger or point of entry, with suitable temperature control mechanisms. However, a few exceptions may apply.
Investigate possible exemptions
The regulations offer exemptions if individual meter installation isn't technically feasible or cost effective – if the cost of installation exceeds the potential energy savings over a ten year period. At the time of writing, the Department for Energy and Climate Change's online calculation tool claims the retrofit of residential meters isn't cost effective in most quoted scenarios. Further clarification will be required on this in due course.
Thermostatic radiator valves in every room may be specified as a substitute to individual meters, and inspections will be required every four years to determine whether previous exemptions still apply. There are also exceptions regarding properties with multiple pipe entry points, or heating systems that use transfer methods other than hot water for distribution.
Plan for future maintenance and billing
Meters will require periodic checking for accuracy and regular maintenance, while an itemised bill based on actual consumption should be submitted at least once a year (or quarterly if customers request electronic billing). Fixed or standing charges must also be clearly indicated, showing customers what they're paying for in terms of maintenance or contingency funds.
Meet the deadlines
The deadline for notifying the National Measurement Office about an existing district heating system is April 30th 2015, while the meters themselves (or thermostatic radiator valves) must be installed by December 31st 2016. Forthcoming schemes need to have information submitted prior to their first date of operation, and updated notifications will be required every four years - just like exempted schemes.
Since compliance with the Energy Efficiency Directive is not optional, it's advisable to start preparing for the 30th of April deadline as soon as possible. That should ensure a smooth registration process – and avoid any risk of prosecution.
Find out how the imminent actions for the EED will affect every communal/district heating scheme in the UK. Get your free eGuide now: Heat networks and the EED: Everything you need to know