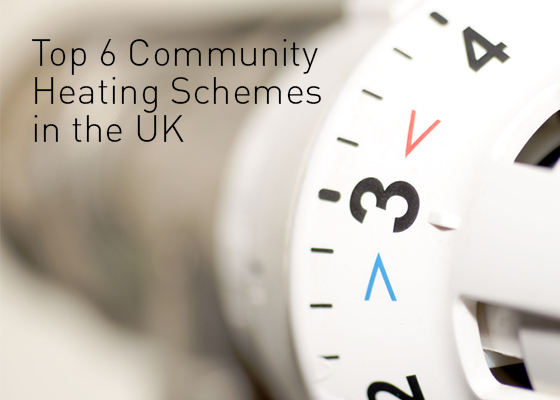 Mainland Europe is showing its prowess when it comes to community heating schemes - but who's doing it right in the UK?
The list of benefits attached to community heating schemes is a long one - but many people are questioning why it hasn't taken off here in the UK the way it has on the continent.
However, figures released in 2017 from The Department of Business, Energy Industrial Strategy (BEIS) identify that there are over 17,125 existing community heating schemes. We've pulled together some inspiration from right here at home to demonstrate that, although community heating isn't exactly commonplace in the UK, we do know how to do it right.
Sheffield's City Centre District Energy Scheme is an award-winning community heating scheme that meets the heating and hot-water needs of some 140 buildings in the city centre. The network serves offices, public buildings, hotels and around 2,800 residential households, most of which use smart meters. The scheme saves an average of over 21,000 tonnes of CO2 a year.
Energy from waste
Hot water for the Sheffield community heating scheme is provided from an energy recovery plant fuelled by non-recyclable waste from both domestic and business premises. This is waste which would otherwise go to landfill, and shows how community heating can work in conjunction with a city's wider environmental strategy.
This district heating and district cooling (DHDC) network covers the Olympic park and Stratford City development and provided low-carbon heating and cooling to the London 2012 Olympic and Paralympic games. The trigeneration system is 30% more efficient than conventional heating and cooling systems and has been designed to enable future extension of the network beyond the Olympic Park and Stratford City developments.
Minimising waste
By setting out measures for waste minimisation during the installation of the scheme, very little waste produced by the DHDC network left the site, with no waste sent to landfill. 100% of stone and soil was recycled for use on site, with over 50% of backfill material sourced from within the site.
Nottingham's community heating scheme serves around 5,000 homes and more than 100 businesses. Similarly to in Sheffield, the scheme's heat is produced by the Eastcroft Energy from Waste plant. The scheme is reducing fuel poverty and residents' energy bills, and 27,000 tonnes of CO2 emissions are offset by the network each year.
Fighting fuel poverty
Nottingham's community heating scheme aims to tackle fuel poverty in the city. The scheme has been able to achieve this by implementing metering and billing services which have helped residents to better manage their consumption and cut their energy bills.
This community heating scheme is the largest of its kind in the UK to be installed in one phase, spanning six estates in the city. It is powered by a combination of CHP and biomass boilers, and will enable the city to save more than 20,000 tonnes of carbon by 2020 while bringing controllable and reliable warmth at an affordable price.
Metering matters
Residents in Leicester took part in a pilot study to see whether using individual meters could enable them to save money and energy. Leicester City Council hope to reduce demand on the scheme while inspiring residents to cut the amount of energy they use while saving money when compared to the flat rate paid previously.
Southampton's community heating scheme supplies over 45 energy users in the private and public sectors including a hospital, a shopping centre, a university, residential buildings and several hotels. Heat is provided by CHP supplemented by geothermal energy and conventional boilers. It is currently saving around 10,000 tonnes of carbon dioxide emissions per year.
Luxury for less
Barratt Homes' Park View development in Southampton has a mix of one, two and three bedroom luxury apartments. The building is connected to the city's community heating scheme and each flat has its own heat meter so occupants only pay for the heat they use. Barratt Homes estimates that using community heating saved them £300 per dwelling, and 90% of occupants surveyed said they would choose to live in a property with community heating again.
Certainly the tallest community heating scheme in the UK, the record breaking Beetham Tower in Manchester includes a 4-star, 285 bedroom Hilton Hotel, a bar, and 22 floors of apartments. The scheme is powered by Combined Heat and Power (CHP), and provides an all encompassing energy solution to the residents.
Cutting consumer costs
Each apartment has a fully automatic metering and control system installed which allows residents to better manage their consumption and have a clear view of their energy use, which should see their bills shrink by as much as 30%.
Ones to watch
There are plenty more schemes in the pipeline, with our capital city demonstrating the scope of community heating and proving that the UK's future is bright.
King's Cross Development
The impressive King's Cross mixed use development consists of 50 new buildings, 2000 new homes, 20 new streets and 10 new public squares. Inside the energy centre is a 7 MW CHP which will provide 100% of the development's heat and hot water once fully operational as well as 80% of its electricity.
Citigen
Work is underway to replace the engines in the iconic central power station in the City of London, with the aim to switch to greener, more efficient and cost-effective energy. This community heating scheme supplies nine of the City's properties, including Guildhall, Smithfield Market and the Barbican Centre, and the possibility of connecting to the scheme is making the City a more attractive area to investors.
Pimlico and Whitehall
The Pimlico District Heating Undertaking was one of the UK's first community heating schemes, introduced as a way of combating the heavy London smog over 50 years ago. The existing PDHU will be combined with the network at Whitehall, improving energy efficiency.
Have we missed any?
Are there any shining examples of community heating schemes in the UK which you think should have been included? We'd love to hear about them - tell us which ones and why by commenting below.
See what goes into a successful community heating scheme. Get your free eGuide now:

The core components of a community heating scheme.