What are electronic HIUs?
In our last post, we looked at the key components which make a Heat Interface Unit (HIU). In this instalment, we'll be looking at electronic HIUs – what makes them different to traditional mechanical HIUs and why they represent a superior alternative to these older generation models.
It is estimated that one third of HIUs being sold and installed are electronic, and this percentage is growing fast.
Just like cars transitioned from carburettors to electronic fuel injections systems, HIUs are undergoing a similar transition from mechanical to electrical systems, to ensure that they can meet modern expectations on efficiency and reliability. The performance and efficiency of a HIU is vital – even more so than in a home heated by a gas boiler. If a boiler performs badly, the effect is limited to that one home, because of the nature of a heat network, a badly performing HIU in one home, can place considerable strain on the entire network, forcing other parts of the system to have to compensate, causing increased energy consumption and increased costs to the whole of the network.
To give a more visual idea of the different elements which make up an electronic HIU, we've put this diagram together: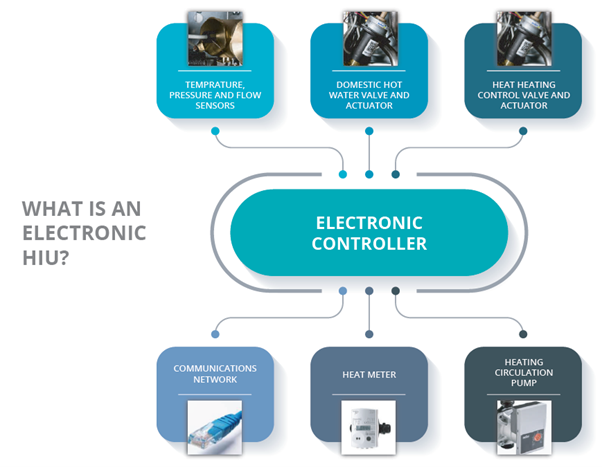 One of the main advantages that electronic HIUs have over traditional mechanical units, is the ability to function with greater accuracy, which is achieved by having heating and hot water control valves along with sensors connected to a control unit. This control unit is responsible for ensuring the unit works efficiently across a range of operating conditions over a long period of time.
Electronic HIUs offer users a range of additional settings which mechanical HIUs cannot offer, such as keep-warm.
Keep-warm essentially keeps one of the components we covered in our last post, the plate heat exchanger, warm.
Functionality such as keep-warm, means that electronic HIUs can respond quicker to changes in demand, so when you need heat or hot water, you don't need to wait as long as you would with an older mechanical HIU, and the amount of energy consumed is also reduced. It is functionality, such as keep-warm, that provides a major benefit for electronic units over mechanical models.
In our next blog post, we'll continue looking at all things HIU but will be considering another type of device which takes the advances made by electronic HIUs even further, the connected HIU.

If you can't wait and want to learn more about connected HIUs, you can click here to visit the ICON HIU page.