A proactive and flexible communications system is the best way to engage heat customers, ensuring trouble-free metering, billing and payment.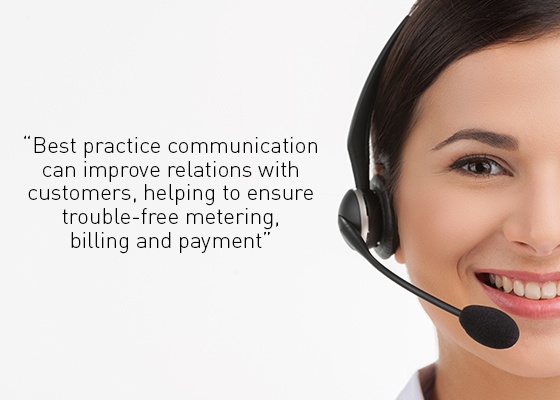 Good customer communication means issues are quickly dealt with, and residents are made aware of services on offer, helping them understand how their community heating system works, and the benefits it can offer them.
A key component of best practice in communicating with heat customers is to keep as many channels open as possible. Community heat residents cover a wide demographic, with a similarly wide range of preferred communication channels. Catering to their preferred method can involve anything from social media and mobiles for the computer savvy, to letters and phone calls for the more traditional.
When it comes to the telephone contact system, providers should be careful to avoid complex automated choices, particularly as the customer may already be stressed due to a problem with heat supply or pressure from payment demands. A maximum of two options is recommended, with a multi-skilled team of handlers available to deal centrally with queries of all sorts.
It is also important to have an out-of-hours telephone service in place rather than a messaging system. Specialist answering services are able to conduct "triage" in case of a breakdown, providing details of when an engineer will arrive – within a time limit dictated by their contractual conditions of service. To avoid confusion or disagreement in such instances, it is important that those conditions were effectively communicated at an early stage of a resident's contract.
If a fault has been reported, residents need to be kept up to date with progress and the date of anticipated resolution, which means keeping call handlers informed of the latest developments. If the fault is with the system and affects a number of residents, it is more likely it will take time to solve, and residents need to know this. Localised problems with individual residents' heat delivery can normally be solved more quickly, so effective explanations need to be quickly communicated if delays are expected.
When it comes to dealing with debt issues, a proactive approach is important to engage the customer. Assurance should be given that there is a payment option to suit them, and the choice should be made clear. The availability of smart meters now means consumers can communicate payments using a variety of electronic means, with alerts sent before the meter runs out. In addition, real time consumption and cost data from smart meters can help inform and persuade a more efficient use of heat.
Heat providers can also give residents information on their relative usage using a traffic light system, with green for low use, amber for average and red for high. This can be complemented by comparisons with energy consumption in similar types of property to give residents an idea of what demand could be if managed better, helping residents use heat more efficiently.
It is important for consumers to be fully aware that the property they are renting or buying is part of a community heating scheme at the earliest opportunity. One option is to provide a welcome pack for new residents or when a new scheme is taken over or launched. However, some individuals will only glance at written material, requiring more effort on the part of heat providers to communicate effectively.
Takeaways
Best practice communication can improve relations with customers and help avoid problems
As many communication channels as possible should be available to cater to a wide range of consumer preferences
Telephone systems should minimise automation and provide an out-of-hours service
Residents need to be kept up to date on progress of reported faults or complaints
Heat providers should be proactive in communicating over debt issues, and offer flexibility
Good communication can help inform and persuade a more efficient use of heat
Residents need to be made aware that their heat comes from a communal system and what that means.