Community heating systems are leading the fight against one of the UK's more avoidable social issues.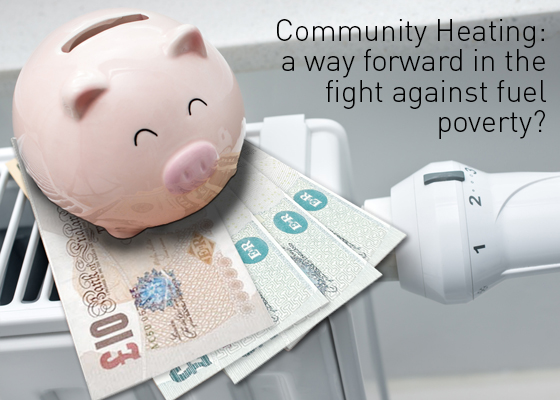 The Department for Business, Energy and Industrial (BEIS) reported last year that over two and a half million households in England alone suffer from fuel poverty. This definition encompasses any household whose fuel costs are above the national median average, and whose residual income would be below the poverty line after paying their bills. Despite a welcome fall in this figure over the last decade, it's clear that millions of low-income families could benefit from improvements in their heating systems.
There's a growing awareness that more radical solutions are needed to eliminate fuel poverty, particularly since energy bills have risen by an average of 140% in the last decade while incomes have only increased by 30%. Community heating systems are now being viewed as one answer, since the greater efficiency of well designed and managed district heating schemes can drive down energy bills. They're already commonplace across mainland Europe, with almost 50% of homes in Finland warmed by district heating systems.
The practicalities
Community heating schemes are increasingly being engineered into forthcoming developments and projects, ensuring that they meet efficiency benchmarks, as well as the latest planning regulations involving renewable fuels. High quality pipelines reduce heat loss between on-site power plants and individual properties. Further energy efficiencies are available by specifying high efficiency windows and meeting current building insulation regulations. Community heating systems can also be designed to run on readily available fuel like biomass or waste materials, reducing dependence on finite fossil fuels with their high acquisition costs and volatile unit pricing.
Aberdeen City Council estimated in 1999 that their 59 social housing high-rises could see CO2 emissions and fuel costs halved by introducing CHP schemes. The latest stage in an extensive rollout of district heating across the city involves six tower blocks at Tillydrone, where substantial grant funding is expected to offset much of the projected £4.57 million capital outlay. According to the most recent estimates for Scotland's 32 unitary authorities, fuel poverty in Aberdeen is now the third-lowest in Scotland by percentage of households.
Looking to the future
Other cities have recognised that community heating can drive down individual costs, as well as enabling residents to feel more involved with their energy provision – which in turn lowers non-payment rates. The London Plan was updated last December, stating that energy assessments for all proposed developments should use decentralised energy 'where feasible'. Sheffield's award-winning district heating system already supplies 140 buildings in the city centre, including 2,800 residential properties that have mostly been equipped with smart meters. Heat comes from an energy recovery plant burning non-recyclable waste that would otherwise end up in landfill, freeing up land and council resources for more worthwhile activities.
Finally, community heating schemes can make a real difference in areas of high deprivation and low incomes. The newly-built Athletes' Village at Glasgow's Commonwealth Games complex is being converted into residential homes, all powered by an on-site CHP plant. A total of 400 rental properties will accommodate people from one of the UK's most deprived wards, with historically high levels of fuel poverty and bad debts. That makes this an ideal location for an on-site energy centre that promises to be 40 per cent more efficient than traditional heating systems. However, it's worth noting that these buildings also have a BREEAM 'excellent' rating – maximising the value tenants get for every pound spent on heating costs.
Reduced household heating costs are just one of the benefits of community heating. Get your free eGuide now: The ultimate guide to community heating